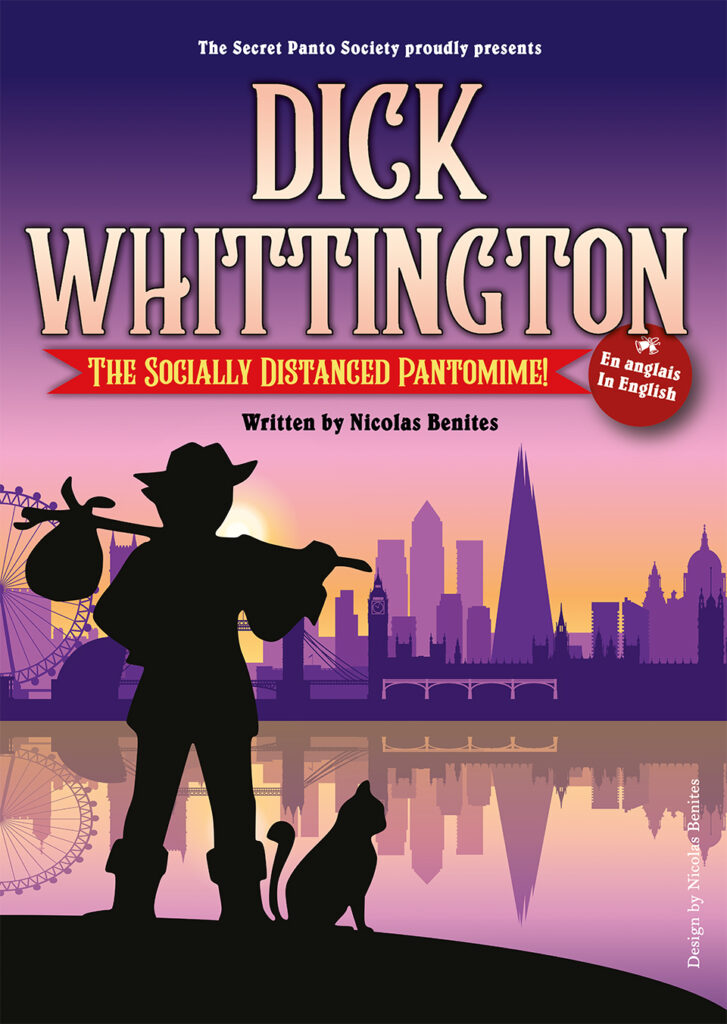 Spectacle
|
English panto
Dick Whittington
samedi 23 janvier

2021
..........
14:00
samedi 23 janvier

2021
..........
18:30
dimanche 24 janvier

2021
..........
14:00
dimanche 24 janvier

2021
..........
18:00
mercredi 27 janvier

2021
..........
18:30
vendredi 29 janvier

2021
..........
18:30
samedi 30 janvier

2021
..........
14:00
samedi 30 janvier

2021
..........
18:30
Tarifs
*A partir de 3 spectacles achetés
** - de 26 ans, étudiants, demandeurs d'emploi, + de 60ans
Présentation
Les représentations prévues au mois de janvier 2021 sont annulées.
De nouvelles dates pour ce spectacle, vous seront bientôt proposées.
Nous contactons directement tous les spectateurs.
Performances scheduled for January 2021 are cancelled.
New dates for this show will be proposed soon.
We will contact all spectators directly.
English:
SPS invites you to a socially distanced Panto adventure like no other!
It's safe to say that in the tough times we've been living through we could all do with some cheering up.
Luckily, our original adaptation of this classic Panto tale promises to do just that!
Come and witness how our cast of larger-than-life characters overcomes the restraints of social distancing to ensure the story gets told… no matter what!
Dick Whittington has always dreamt of going to London, the legendary city where the streets are paved with gold.
Unfortunately, he arrives to discover it isn't the wealthy haven he imagined. Queen Rat, evil ruler of the sewers, has unleashed vicious rodents throughout London in a bid to take over the city.
Convinced it is his destiny to defeat Queen Rat and become Lord Mayor of London, Fairy Bowbells sets Dick off on an unforgettable rags-to-riches adventure.
With plenty of knockabout comedy for all the family and COVID-19 safety guidelines fully implemented both in the audience and on-stage, this is a once-in-a-lifetime experience you do not want to miss!
Informations COVID-19 :
DON'T FORGET :
>Your show tickets
>Your mask
>Your good mood!
Behind the scenes, the Theatre team is doing their utmost to welcome you in the best possible conditions!
Here are the steps you must follow as you get to the Theatre:
– Please arrive together with your whole group
– Respect a physical distance of at least one metre to other groups
– Wear a mask throughout your entire visit
– Disinfect your hands with hydroalcoholic gel at the entrance.
– Present your tickets at the control
– Make your way to the auditorium with your whole group
– Sit on the seats indicated by the staff
– Listen to the announcement of any instructions
And Enjoy the Show!
Currently, one seat is left vacant between each person or group of 2 to 6 people.
Convivial moments before and after the shows are offered in the bar-restaurant area Le Prélude by Sochef.
In compliance with sanitary measures, space is limited for optimal comfort.
The service is only served at the table and by reservation only.
Français:
La SPS vous invite à une aventure Panto comme aucune autre : socialement distante !!
Il est important de souligner que dans les moments difficiles que nous venons de traverser, nous avons tous besoin d'un peu de réconfort et de joie.
Notre adaptation originale de ce conte classique de Panto nous permet de le faire et de vous offrir un moment de rires et de détente.
Venez voir comment notre équipe de personnages plus grands que nature surmonte les contraintes de la distanciation sociale pour que l'histoire soit racontée… quoi qu'il arrive !
Dick Whittington a toujours rêvé d'aller à Londres, la ville légendaire où les rues sont pavées d'or. Malheureusement, il vient à découvrir que ce n'est pas la richesse qu'il avait imaginée. La Reine Rat, la terrible souveraine des égouts, a lâché des rongeurs vicieux dans tout Londres pour s'emparer de la ville.
Convaincu que son destin est de vaincre la Reine Rat et de devenir le maire de Londres, la Fée Bowbells lance Dick dans une aventure inoubliable pour devenir riche de manière fulgurante.
Avec du rire, des drôleries et beaucoup de comédie à couper le souffle pour toute la famille, c'est une expérience unique que vous ne voulez pas manquer !
Les consignes de sécurité COVID-19 seront entièrement appliquées dans le public et sur scène.
Distribution
by The Secret Panto Society (SPS)